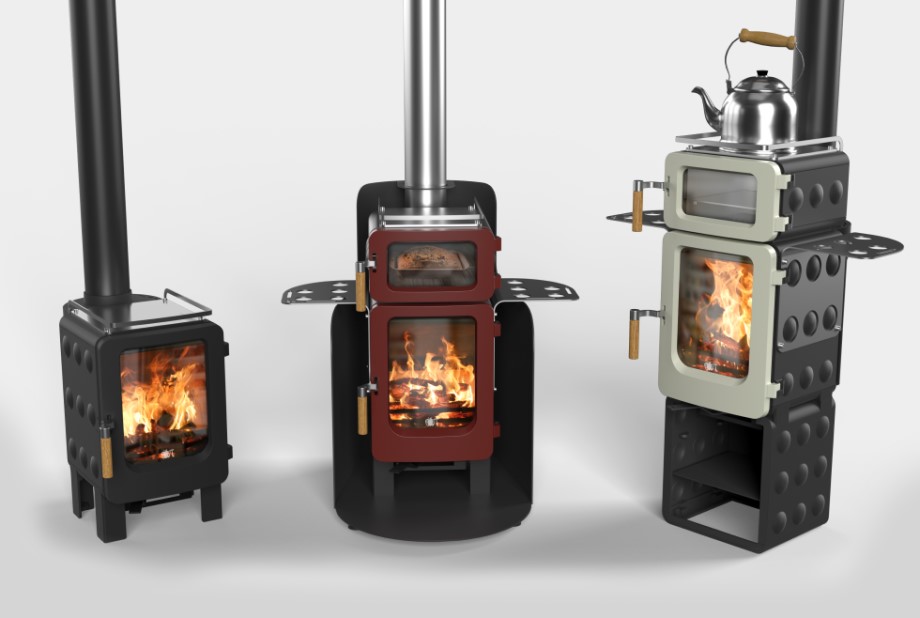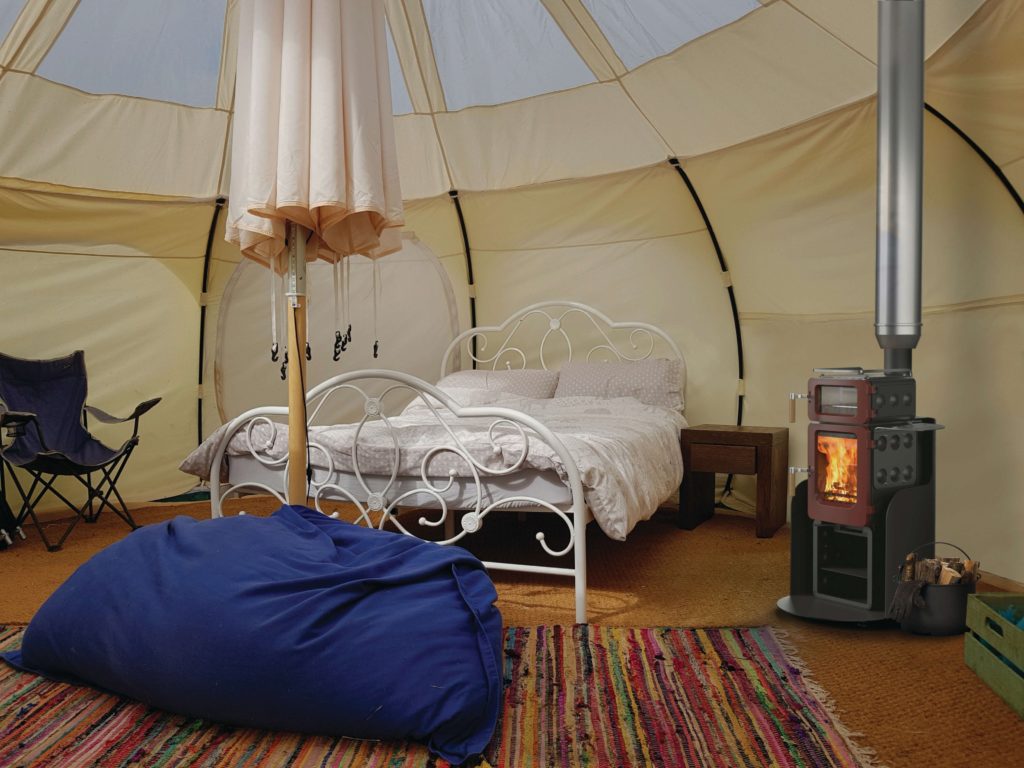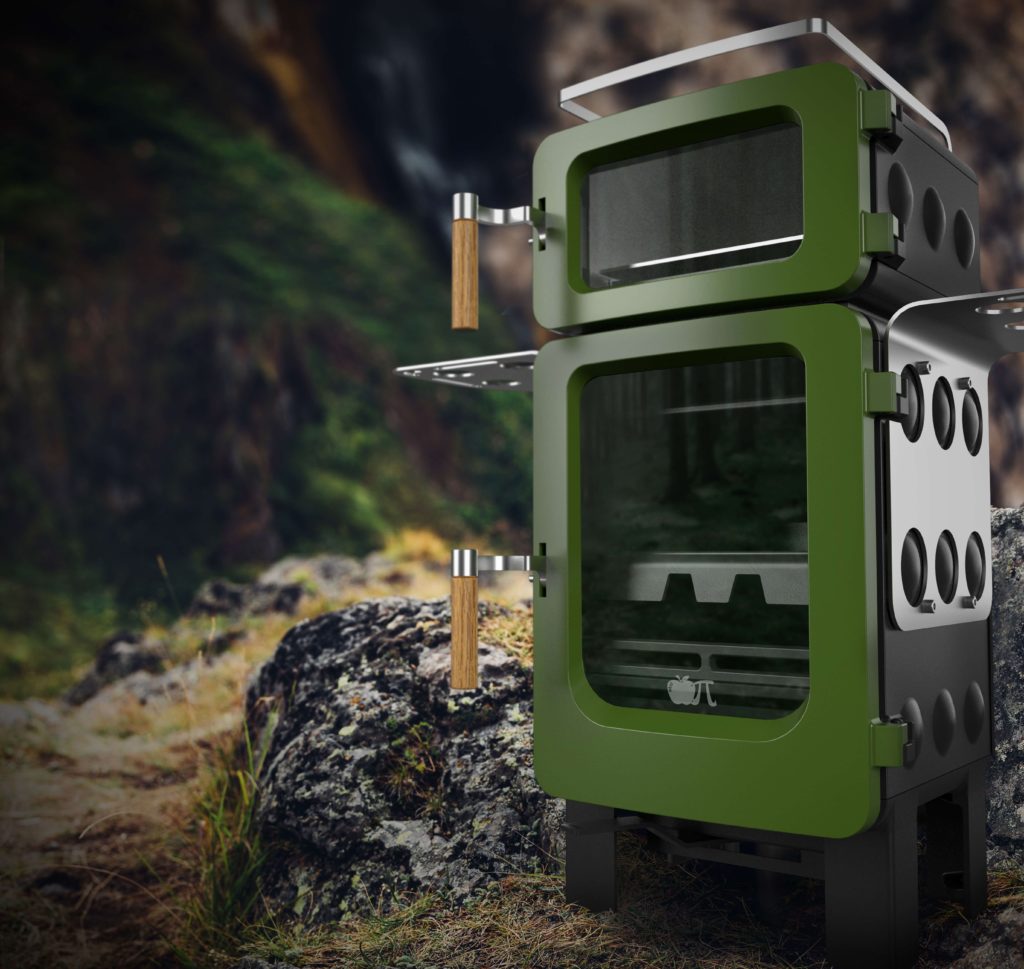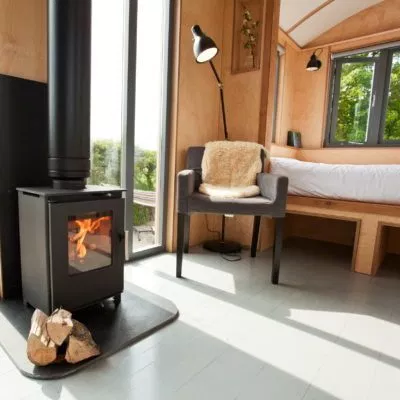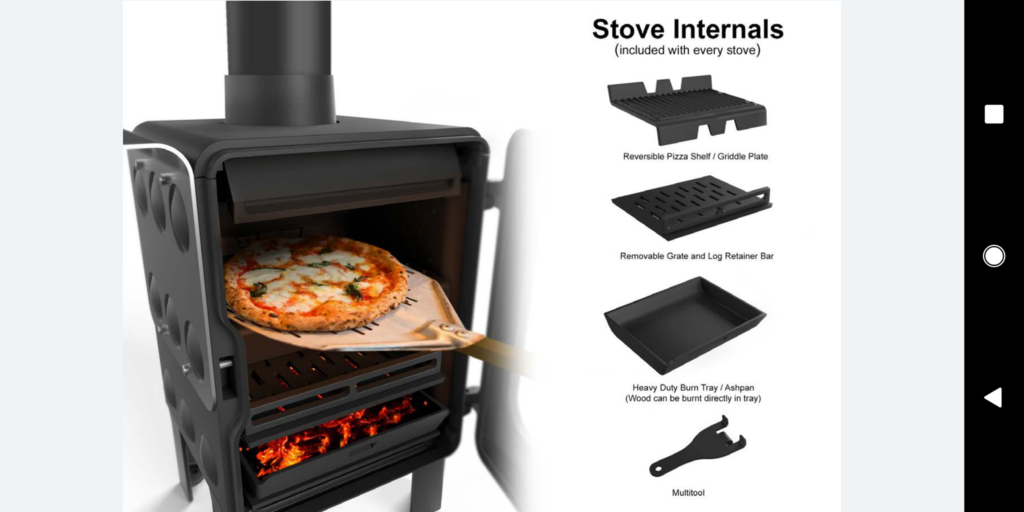 Stoves perfect for smaller rooms, glamping pods, yurts, cabins and OPDs
In order to burn your stove efficiently and not become uncomfortably hot at the same time, it's vital to get the sizing right.  Some of the stoves in this range may look small, but they pack a serious punch.  Most of those listed will get smaller lounges to the levels of warmth where internal doors (sometimes even windows!) need to be left open.
Some of these are also ideal for glamping pods, yurts and bell tents, shepherds' huts and wooden cabins because they include:
a small frame which means small living spaces do not become uncomfortably hot
built in convector panels so they can be safely located close to wooden/canvas walls – check which models before purchasing.
cooking facilities such as a stainless hotplate, internal bbq/pizza shelf and/or oven
a heat-proof stand which allows a safe location of the stove in a small space close to a wall or cupboard unit
the Pembrokeshire Stoves guaranteed super-heated air wash to keep that glass clean
Always talk to us before purchasing to make sure you are getting the right stove for you and the location in relation to distances to combustible materials!
Meet the Stars
Mendip Loxton 3 convector plus:
This little gem of a stove is small, powerful, super efficient and has a fantastic flame pattern.  With full convection panels it can be located 100mm from a rear wall and 200mm from a side wall made from combustible material. Truly one of best and safest small stoves I have ever used and ideal for locating in both a small lounge, living space or glamping structure.  Due to the convector panels all around you cannot cook on this stove which often suits glamping pods where owners don't want the mess created by cooking in the stove area or lounge.  For every Mendip stove purchased, 3 trees are planted by the Woodland Trust making this one the most carbon neutral stoves around.
Apple Pie and baked Apple Pie by Ekol: 
New for Pembrokeshire stoves –  These are the most versatile stove cookers of all the small stoves.  All Apple pie stoves come with an internal reversible pizza shelf and griddle plate and a heavy duty ash pan than can work as bed for charcoal and wood to give you the perfect BBQ inside your stove!  Optional extras include a stainless steel hotplate on top, an oven for baking, side shelves for hot pans and a top rail for safety in a moving vehicle or boat.  These amazing fully cast-iron stoves are rock solid little beasts and make the perfect companion for green living, glamping and cooking using the wood that grows around us. Say goodbye to fossil fuels with an Ekol Apple and Apple Pie
Salamander Hobbit:
Perhaps the smallest and most perfectly formed of all glamping stoves these little beauties have the perfect heat output for small spaces. Due to their size and price these budget stoves mean that living and rented spaces no longer reach unbearable temperatures resulting in huge savings on fuel and the pocket.  Salamander Hobbit stoves are loved up and down the country from live-in canal boats, round houses and cosy suburban lounges.
Last, but definitely not least!
Woodwarm Foxfire and Woodwarm Firewren:
These are the best small stoves if a perfectly crystal clear view of the fire at all times and efficiency is the most important thing for you.  With double glazed glass panels in the door and super-heated airwash these are my number one selling stoves for small to medium sized rooms.  For larger glamping pods and huts purchase these with a pre-fabricated wall heatshield or chose the Firewren convector model as they can go closer to walls and cupboards than the standard model (contact us for recommended distances to combustibles before purchasing).  Both convector and standard models get hot enough to cook on.  You cannot go wrong with one of these 2 stoves both developed and built by Woodwarm – just read some of our reviews!